Our Engineer Installing New Type 9ft Veneer Peeling Machine in Malaysia Customer Factory
Jan. 02, 2018
Our engineer is installing the new type servo 9ft spindleless veneer peeling lathe machine in Malaysia customer factory .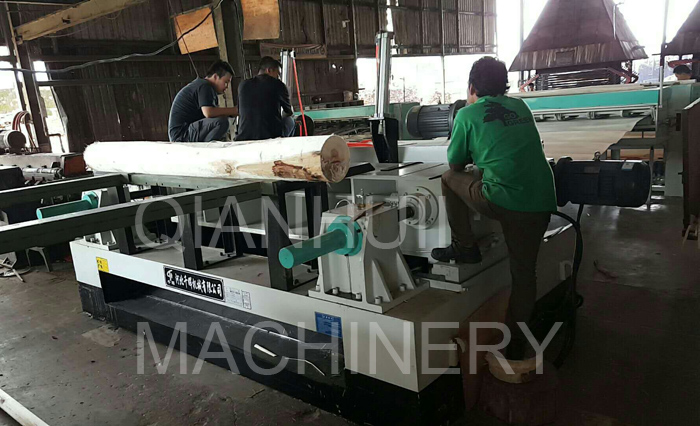 Qianhui Brand 9ft Spindleless Veneer Lathe with Cast Steel Structure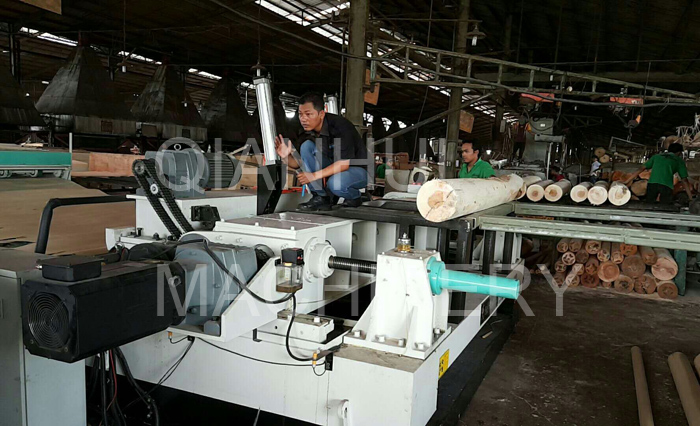 15kw Servo Motor for Feeding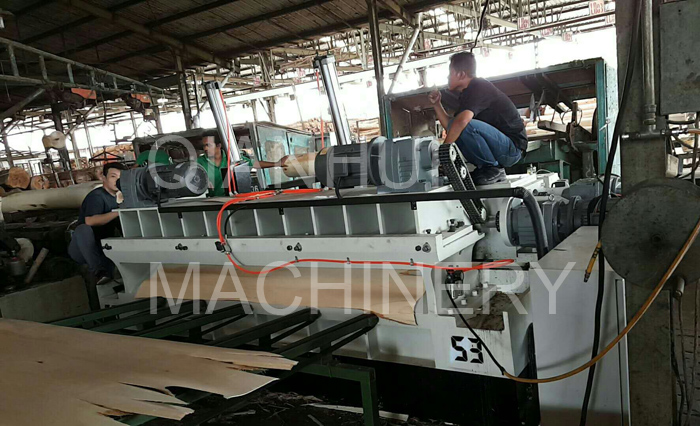 Product Description:
New Type 9ft Spindleless Veneer Peeling Machine With Servo and Cast Steel Structure
Technical Specification:
| | |
| --- | --- |
| Model No | BX2600B |
| Max Peeling Length | 2600mm |
| Max Peeling Diameter | 400mm |
| Left Log Core Diameter | 30mm |
| Peeling Thickness | 0.2-3.6mm |
| Peeling Speed | 40m/min |
| Knife Table Material | Cast Steel |
| Gearbox Type | Hardened Surface Gearbox |
| Roller Motors | 9.0kw x 4 sets |
| Feeding Motor | 15kw Servo Motor x 1 set |
| Control System | 18kw Servo Drive |
| Dimension | 5600x2200x1800mm |
| Weight | 14000 kg |
Key Features:
1. Heavy Duty:The weight of this veneer lathe is up to 14000 kg,much heavier than other model of machines,so the machines runs very stable,and the peeling precision will be very good,and this makes it suitable for peeling all kinds of hardwood logs
2. Servo System:This veneer lathe is equipped with 11kw Servo motor and 15kw Servo Drive Inverter,the control precision is much better than normal motor and normal inverters
3. Cast Steel:Knife table made of cast steel,much more stronger than welding structure,will not deform forever and this will guarantee the thickness accuracy
4. Hardened Surface Gearbox:Hardened Surface gearbox reducers are used for rollers and for feeding,stronger than cycloid pin wheel reducer.
5. Sufficient Motor Power: 4 sets of 9.0kw motors are used to drive the rollers,and 15kw servo motor to drive the feeding system,which can suppler bigger torque and can peel different kind of hardwood logs
6.Wide Thickness Range:This veneer lathe can peel thin as 0.2mm and as thick as 3.6mm, one machine will meet your demand for peeling different kinds of veneer,core veneer and face veneer peeled in one machine .
7. Double Slide-way System:It has double sliding way system supporting the knife table,at the two ends are the surface slide system,and in the middle are the dove tail slide system supporting,so the knife table runs smoothly and stably,which will make the veneer very beautiful.
8.High Rigidity Rollers:Rollers are quenched and chrome plated,rigidity is better and harder,service life longer.
9.Bearings Well Sealed:All bearings are attached with seals,which makes the bearings better lubricated and can be used for longer time.